What People Are Searching For, According to Google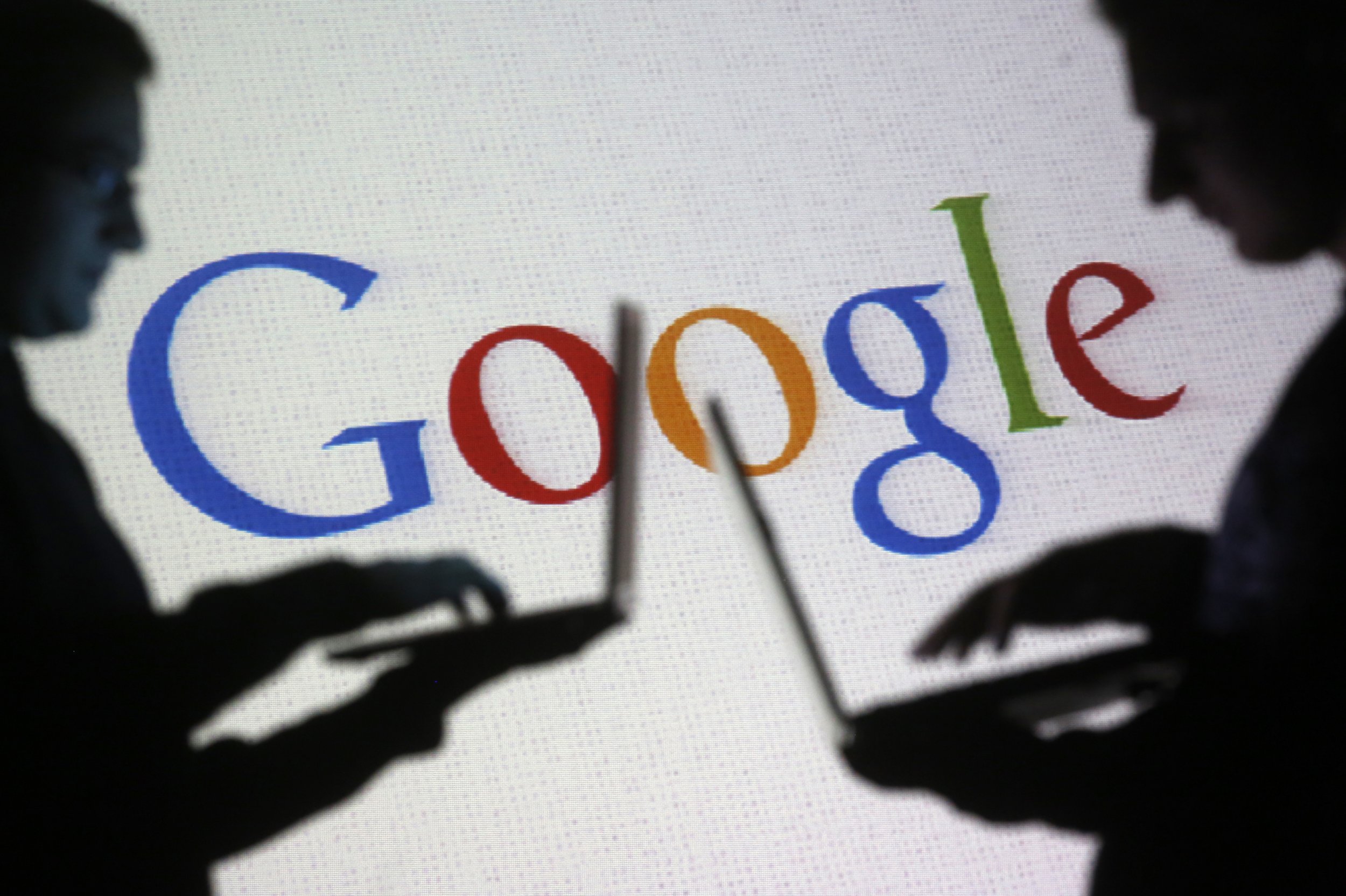 Every December, as one year is about to give way to the next, Google reveals what we've searched for the most in the past 12 months. On Tuesday, the company published its 2014 Year in Search, formerly called Zeitgeist.
The data tracks what Internet users have typed into the empty rectangle on Google's search engine—which as of October was processing two-thirds of all Internet searches—reflecting the news, events and topics of most interest and concern in the U.S. and around the world.
"In 2014, we were struck by the death of a beloved comedian, and watched news unfold about a horrific plane crash and a terrifying disease. We were captivated by the beautiful game, and had fun with birds, a bucket of ice, and a frozen princess," writes Amit Singhal, Google's senior vice president for Search, in a company blog post announcing the data.
Robin Williams topped the global top-trending searches list, followed by the World Cup, Ebola, and Malaysia Airlines Flight 370. Rounding out the top 10 were the ALS ice bucket challenge, Flappy Bird, Conchita Wurst, ISIS, Frozen and the Sochi Olympics.
The list for U.S. top-trending searches list started out looking identical and included eight out of 10 of the same items, but it diverged at the bottom. Americans searched for Ferguson and Ukraine frequently, terms that replaced Conchita Wurst and the Sochi Olympics in the top 10, compared with the global list.
Google's Year in Search also broke down its trending searches into various categories. Jennifer Lawrence, Kim Kardashian, Tracy Morgan and Ray Rice topped the U.S. most-trending people list; Alibaba and GoPro were at the head of the trending IPOs pack; and Game of Thrones, No, You Shut Up!, True Detective and Orange Is the New Black were in the first four slots for trending television shows.
In the food and drink department, Americans were looking for the number of calories in a banana, pumpkin pie, an apple and an egg; Paleo, Atkins and Gluten-free were the top-trending diets; and chicken, meatloaf, banana bread and pancakes were the recipes we looked for most often. When it came to beer, people searched most for Budweiser, Keystone, Corona and Miller, while for cocktails, the most commonly sought after were margaritas, martinis, sangria and mojitos.
The U.S. top-trending Google doodles included the U.S. Valentine's Day doodle, followed by the doodles for the World Cup 2014, the Winter Olympics and Rubik's Cube.
Other U.S. list-topper highlights for 2014 were:
Most searched beauty question: How to get rid of acne
Most searched dog question: Why do dogs eat grass?
Top-trending memes search: Tim Howard memes
Top-trending natural events search: Hurricane Arthur
Most searched places on Google maps: Wal-Mart
Top-trending podcast search: Serial
Top-trending book search: Boy, Snow, Bird
Google, founded by Larry Page and Sergey Brin in 1998, has been putting out this type of data each year since 2001. Its first Year-End Zeitgeist, published in December 2001, looks very different from the 2014 Year in Search published Tuesday, both visually and in terms of content. That first year, terms like Nostradamus, CNN, World Trade Center and Harry Potter topped the list of top-gaining queries.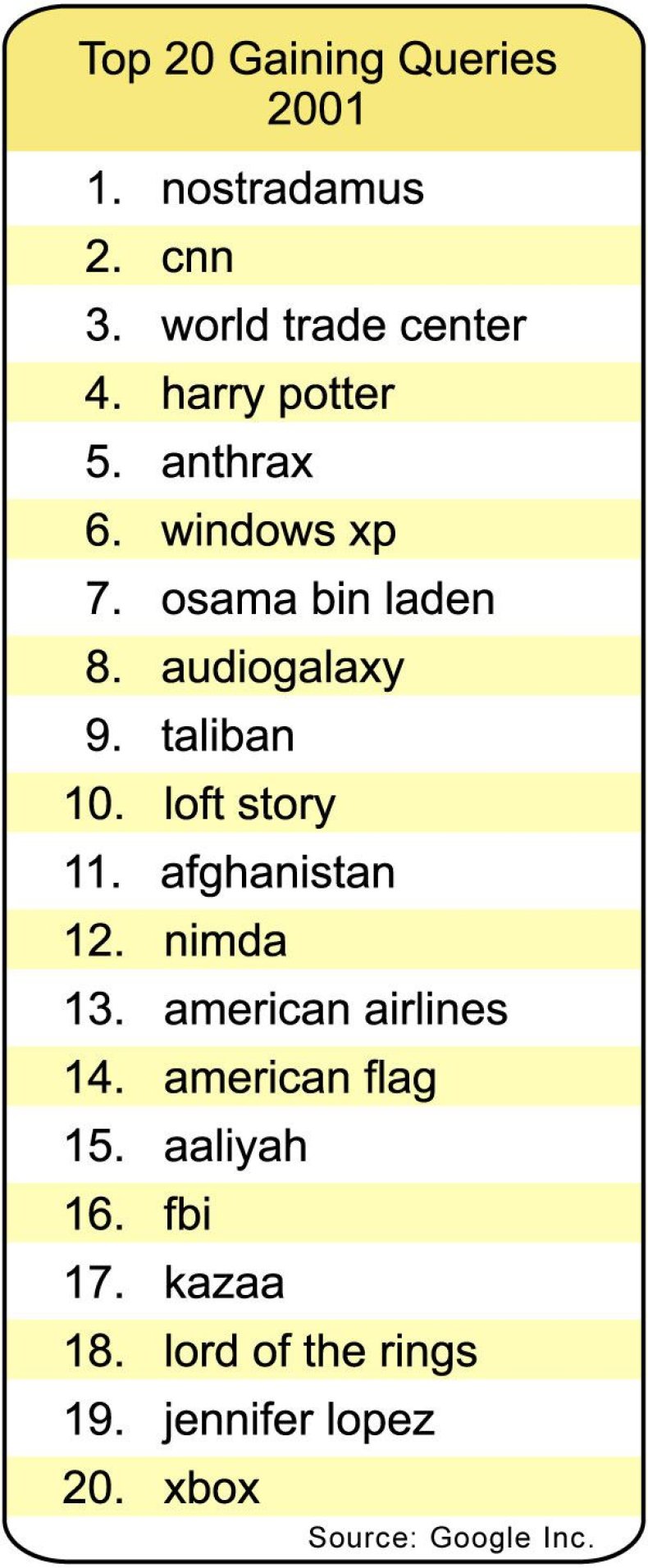 The 2013 list of top-trending searches (global) included Nelson Mandela, Paul Walker, iPhone 5s, Cory Monteith, Harlem Shake, Boston Marathon, Royal Baby, Samsung Galaxy s4, PlayStation 4 and North Korea.
In 2012: Whitney Houston, Gangnam Style, Hurricane Sandy, iPad 3, Diablo III, Kate Middleton, Olympics 2012, Amanda Todd, Michael Clarke Duncan, BBB12
In 2011: Rebecca Black, Google+, Ryan Dunn, Casey Anthony, Battlefield 3, iPhone 5, Adele, Steve Jobs and iPad2.