China Denies Tearing Down Mosques, Claims It's 'Reconstructing' Them for Muslims' Safety
The government of Xinjiang is denying reports that China is tearing down mosques throughout the region. A government spokesperson reportedly said the mosques are instead being reconstructed or repaired to provide better safety for the region's Muslim population.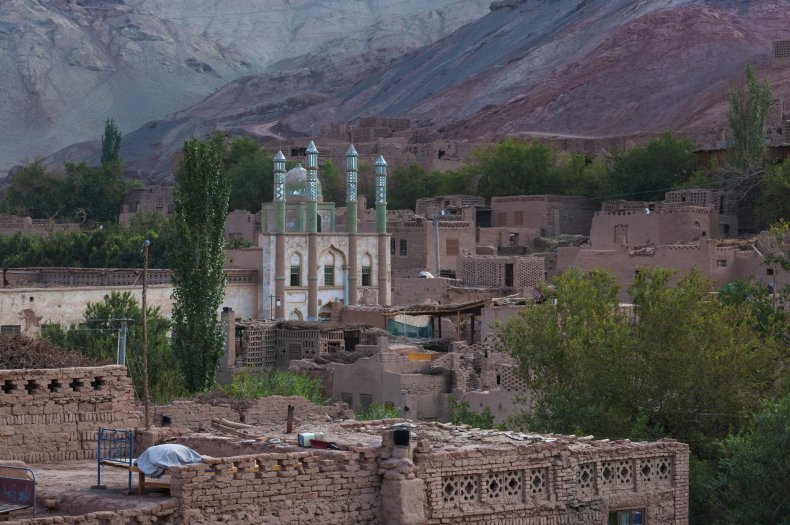 The Global Times, an English-language tabloid owned by People's Daily, the Chinese Community Party's official newspaper, quoted a spokesperson for the Xinjiang government's Information Office speaking about the reports. According to the Global Times, spokesperson Elijan Anayat said at an April 18 press conference, "There's no so-called forced demolition of mosques problem in Xinjiang."
Xinjiang, officially named Xinjiang Uyghur Autonomous Region, is located in the northwest region of China. Last September, The New York Times reported that the government was destroying many mosques throughout the area, in an attempt to "erode the cultural and religious heritage of the region and forcibly assimilate its Muslim minorities." Several other Western media outlets, included Voice of America, picked up on the story.
Using satellite imagery, the Australian Strategic Policy Institute estimated authorities damaged or outright destroyed thousands of religious structures throughout Xinjiang. Anayat said the poor conditions of the mosques made it unsafe for practitioners to use them, especially since earthquakes could collapse them, according to the Global Times. He also reportedly claimed the reconstruction, relocation or expansion of the buildings came at the request of Muslims.
This comes as media stories also claim the Xinjiang government has detained religious people throughout the region, which includes Uyghur and other ethnic Turkic Muslims.
Furthermore, a Monday report by Human Rights Watch and Stanford University's International Human Rights & Conflict Resolution Clinic says China has committed "crimes against humanity" against Uyghur and other ethnic Turkic Muslim populations in Xinjiang. The report characterized the crimes as "among the gravest human rights abuses under international law."
Anayat reportedly said any "detained religious people" are actually terrorists who were spreading extremism. He claimed good religious individuals have even been killed by these terrorists.
The tabloid also wrote that Anayat claimed China never specifically targets any religion when seeking to tamp down extremism and prevent terrorist acts from occurring in the country. Due to such measures, he said, Xinjiang hasn't experienced a terrorist act for four consecutive years.
Both the Global Times and People's Daily have long been accused of being mouthpieces for the Chinese Communist Party and spreading pro-government propaganda. In the past year, the Global Times has also faced accusations of spreading misinformation about the coronavirus.