How Trump and Biden's Chances Look in Latest 2024 Polling
New polls suggest Donald Trump and President Joe Biden are neck-and-neck as Republicans and Democrats look ahead to the 2024 presidential election.
Polls by Redfield and Wilton Strategies and Premise show the race for the White House is incredibly tight with only a few percentage points separating the two.
While Biden has suffered from relatively high unfavorability for several months, the polls indicate that Republicans could have a harder time winning the race to the White House next year.
In two sets of polls by Redfield and Wilton Strategies, Trump led Biden by a single percentage point. The former president led Biden 40 to 39 percent. Meanwhile, both were tied at 44 percent in a second poll. Both polls were shared on March 7 and March 6, respectively.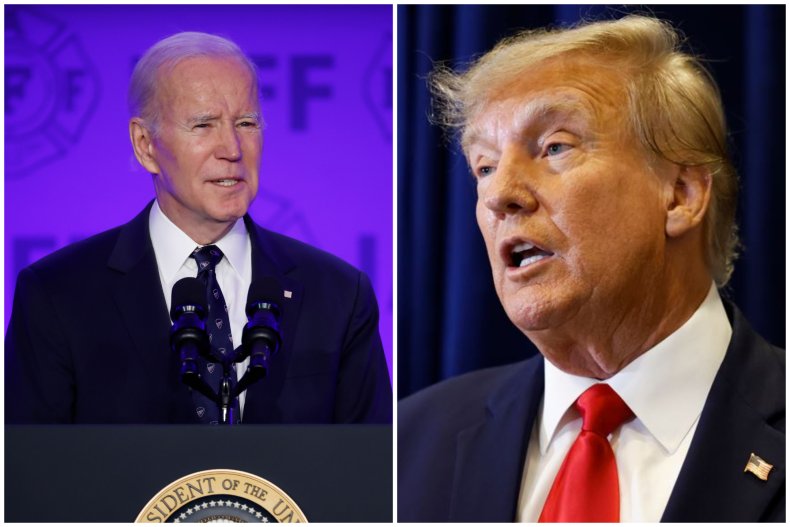 Meanwhile in one Premise poll, Trump led the president 45 to 44 percent while he took a slightly larger lead of 44 to 41 percent in a second poll, both of which were shared on March 6.
Both Redfield and Wilton Strategies and Premise have been given a B/C ranking by polling aggregator FiveThirtyEight, where A+ is considered the highest grade that can be obtained by previous accurate polls.
Former South Carolina Governor Nikki Haley, who recently announced her intent to be the GOP presidential nominee in 2024, fared worse against Biden in two March 6 Premise polls where Biden led her by 2 and 3 percentage points.
However, polls also indicate that Florida Governor Ron DeSantis, a Republican who has not yet announced if he will run for president in 2024, would prove to be a strong contender against Biden.
A Premise poll shared on March 6 found that DeSantis was ahead of Biden by 37 to 36 percent in terms of favorability.
DeSantis has gained support among Republicans who want to take back the White House next year. The possibility that the Florida governor could make an announcement has led Trump to attack his potential GOP rival.
On numerous occasions, the former president has mocked DeSantis and has made it clear that he has no affection for the governor.
In several Truth Social posts, Trump's social media platform, Trump has shared polling where he leads DeSantis and has repeated mocking names for him, including "Ron DeSanctimonious."
The former president continues to have a lead over DeSantis in polls where Republicans were asked which candidate they would prefer. In addition, Trump and DeSantis have made inroads in Iowa, which will kick off the Republican Party's nomination race.
DeSantis's visit to the state earlier this week could be considered a strong indicator that he intends to challenge Trump for the Republican nomination.
Newsweek has contacted University College London Professor Thomas Gift for comment via email.