'The Voice' 2020 Battles Recap: Who Left, Who Got Stolen, Who's Headed To The Knockouts on Season 18, Episode 6?
The first round of The Voice 2020 battles begin on Monday night. Check out our live-blogged recap and results for Season 18, episode 6 here.
The blind auditions are officially over and now it's time for the battles to begin on the 2020 Season of NBC's The Voice on Monday night at 8 p.m. ET.
With 10 contestants on each of their teams, coaches Blake Shelton, Kelly Clarkson, John Legend and Nick Jonas will now move the competition forward by pairing artists against each other in a duet performance during the battles. The singer that impresses his or her coach the most will be able to advance to the knockout rounds. But that doesn't necessarily leave the losing artist hanging in the dust. Contestants that aren't chosen to move forward in the competition have a shot at being saved or stolen by another one of the coaches. Those that are not will not move ahead in the 18th season of The Voice.
On the first round of battles, artists will go head-to-head and perform covers of hit songs from artists like Billie Eilish, Tina Turner, Dua Lipa, One Republic and many others. We'll be on hand providing live-blogged coverage of the show in addition to results for who is eliminated. If you missed any of the blind audition performances, check out our earlier live-blogged coverage here.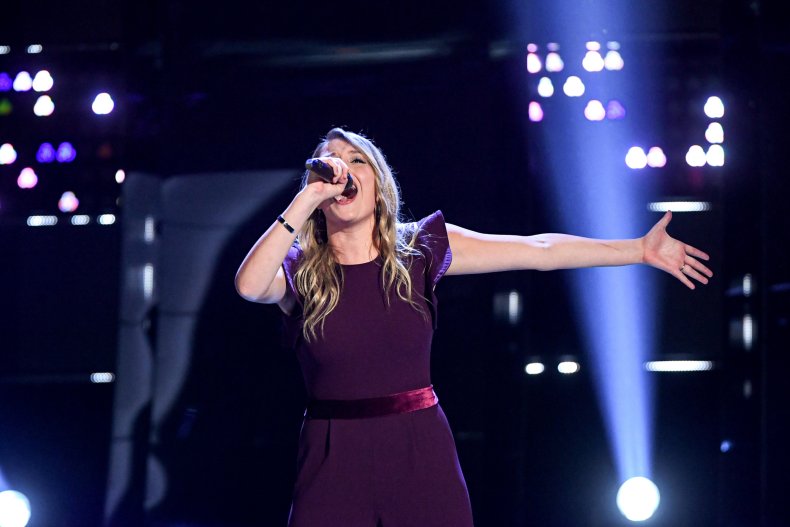 The Voice Season 18, Episode 6 Battle Round Results
Team Blake
Joei Falco—winner
Todd Michael Hall—saved by Blake
Levi Watkins—winner
Jamal Corrie—eliminated
Team Kelly
Chelle—eliminated
Anaya Cheyenne—winner
Team Nick
Joanna Serenko—stolen by John
Roderick Chambers—winner
Allegra Miles—winner
Michael Williams—saved by Nick
Team Legend
Mikel Jerel—winner
Zach Day—eliminated
The Voice Season 18, Episode 6 Battle Round Live Blog
8:00:
The show starts with host Carson Daly informing the coaches of the new rules of the battle round. On previous seasons, coaches were able to steal and save contestants after a coach made a decision whether or not to move that artist forward in the competition. Now, coaches can steal contestants from their respective coach before a coach decides to keep them on a team. Also, four artists will be eligible to be saved and head straight to the knockout round and compete against each other. Only one of them will be named winner.
8:03:
Blake reveals his team mentor of the season and it's Bebe Rexha. She helps Blake coach artists Joei Fulco and Todd Michael Hall for their battle performance. They'll be singing "The Best" by Tina Turner.
"It's definitely a challenge going up again someone like Todd because he does have such a powerful voice. His is just high and crystal clear and beautiful," Joei says in a confessional.
8:05:
Joei and Todd hit the stage for the first battle performance of the night and they both totally rock the stage, singing in perfect harmony. Their effort lands them a standing ovation from all the coaches.
"Joei, when you hit the high notes, it was fantastic. Todd, you just reminded me why I wanted you on my team," John said.
Nick said their performance was like "10 shots of caffeine" while Blake thought Joei's voice was "very magical." As for Todd, the coach thought he had "unbelievable range."
In the end Blake decided to name Joei the winner of the battle. "I ended up choosing her because she's just got so much talent and a certain charisma about her," Blake said.
At the very last moment, Kelly pounded her buzzer to save Todd but she was a second too late. Blake managed to save the Michigan singer first and he remains on Team Blake.
8:16:
Chelle and Anaya Cheyenne from Team Kelly are up next, but before they hit the stage they get some sound advice from their team mentor, Dua Lipa. Only adding to all the excitement, the girls will be singing Dua's song, "Scared to Be Lonely." Although Kelly thought both Chelle and Anaya were beautiful singers, she said their performance on the battle stage was going to come down to who owns the attitude of the song.
We'll have to wait a bit before we actually get to see them jam. Commercials are up next!
8:27:
We're back from commercials and the battle begins between Chelle and Anaya. They sound great together and it's very clear the ladies took their mentor Dua's advice and used their voices to express the vulnerability of the song.
All the coaches were blown away by the performance, but they were particularly taken aback by Anaya.
"You're both really great. You have completely different tones, but you both have an amazing range. I wanted to see who was going to push themselves the most," Kelly said before advising them both to remain confident no matter who she chooses to move on to the knockout round.
In the end, Kelly names Anaya as the winner. None of the other judges opted to save Chelle, bringing her time on the competition to an end.
8:39:
Nick recruits his two brothers Joe and Kevin Jonas to serve as his team mentors. As expected, contestants Joanna Serenko and Roderick Chambers were thrilled to see all three of the Jonas Brothers together.
The pair will sing "When the Party's Over" by Billie Eilish, and Nick is already dreading having to choose between the two after they knock rehearsals out of the park. We'll get to see who he chooses after a quick commercial break.
8:46:
Joanna and Roderick take the stage right away when we return from commercials. The pair greet each other with a cute secret handshake and then begin their soulful performance standing back-to-back. Nick and the rest of the coaches are completely impressed with everything they just witnessed. Kelly says it was the best battle she's watched so far this season.
"This is the kind of performance I want to see on award shows. It was flawless," Kelly said.
But this is first-time coach Nick's decision and he's biting his nails with nerves over it.
"I'm in the toughest decision I've ever been in," Nick admits.
Who does he pick? We'll find out right after break.
8:56:
Fresh from commercials and Nick decides to go with his gut feeling. It's telling him to keep Roderick, so that's who he chooses.
"I can't even believe what's happening. I don't even know what to say," Roderick said.
Joanna can barely make it off the stage when she is stolen by John.
"I wanted you from the very beginning. You were perfect then," John said.
8:59:
Now it's time for two Team Legend contestants to go head-to-head. He's enlisted singer Ella Mae to help with mentoring Mike Jerel and Zach Day. They'll be singing Miguel's "Adorn."
During rehearsals, John advises the guys to tap into their confidence while Ella advises them to be careful with their runs. "Most of the time you're likely not going to hit it if there is a doubt in your mind. It's better to hit something that may be less technical and you hit it right than to do something that is more technical and get it wrong," Ella said.
9:10:
After a quick commercial break, Mike and Zach finally hit the stage. It seems like they both have stepped out of their shells and showcased the confidence John spoke about during rehearsals. And, boy, did they tackle the runs just as Ella advised. Blake, Kelly and Nick agree that John has his work cut out for him.
"That was a true battle," Nick said. "That was exhilarating to watch. Also shockingly confident, and I don't know what I would do if I were John right now."
John was mostly pleased that guys tapped into the sexy swagger the song exudes. "You guys delivered it convincingly and you made my decision excruciatingly difficult," John said.
He ends up naming Mike as the winner.
9:20:
Next up is Team Blake: Levi Watkins and Jamal Corrie. Turns out, the duo became friends back when they were participating in the blind auditions, and they even sang together backstage to help ease their nerves before performing. Now they'll have to face off against each other in the battles, which should be interesting especially now that they're buddies.
Levi and Jamal will sing "Counting Stars" by OneRepublic. Mentor Bebe Rexha advises Jamal to try to tackle the notes without so much force while she suggests for Levi to go up one octave. We'll see how well they follow Bebe's orders after a short commercial break.
9:32:
Levi and Jamal hit the stage and deliver an energetic performance. "You two were so fun to watch," John said.
Meanwhile, Nick said he was mad that Levi wasn't on his team, and Kelly appreciated Jamal's passion.
As for their coach, Blake was impressed with both Jamal and Levi's performance, but he decides to keep Levi. None of the coaches attempt to save or steal Jamal, so his time on The Voice officially ends here.
9:40:
Team Nick contestants Allegra Miles and Michael Williams will battle next. Although they're both a bit nervous, especially now that they've discovered Nick's brothers Kevin and Joe Jonas are their mentors, a quick scream session helps ease their anxiety.
The pair will sing "How Will I Know" by Whitney Houston, but they'll be taking a more soulful-ballad approach like Sam Smith's version of the song. But first, commercials!
9:53:
The last battle of the night begins when Allegra and Michael take the stage. They exude so much effortless range and power with their syrupy voices, hitting one impeccable high note after another.
Nick can barely contain his excitement watching their performance, and the other coaches are equally moved by the contestants' voices.
"I know this is a battle, but I'm blown away at the level at which you guys connected. You made this song your own. That arrangement that you came up with spoke to everyone in this place," Nick said.
It was a tough choice, but Nick goes with his gut again and chooses Allegra. But in a last-ditch effort, Nick chooses to save Michael. They'll both move forward on Team Nick.