Why Meghan Markle Is Still a Princess
Meghan Markle is still a princess despite quitting the royal family for a new life in America in 2020.
Markle's outspoken comments on subjects ranging from racism to the 2020 U.S. presidential election have sometimes led to calls for her to be stripped of her royal titles. She was named the duchess of Sussex by Queen Elizabeth II after marrying Prince Harry, who became the duke of Sussex. Following their May 2018 wedding, she acquired another, virtually unused, title: Princess Henry of Wales, a reference to Harry's name at birth, which was Henry.
Kate Middleton got a similar title after marrying Prince William. But most women who marry into the royal family do not use this princess title, which involves dropping their own name.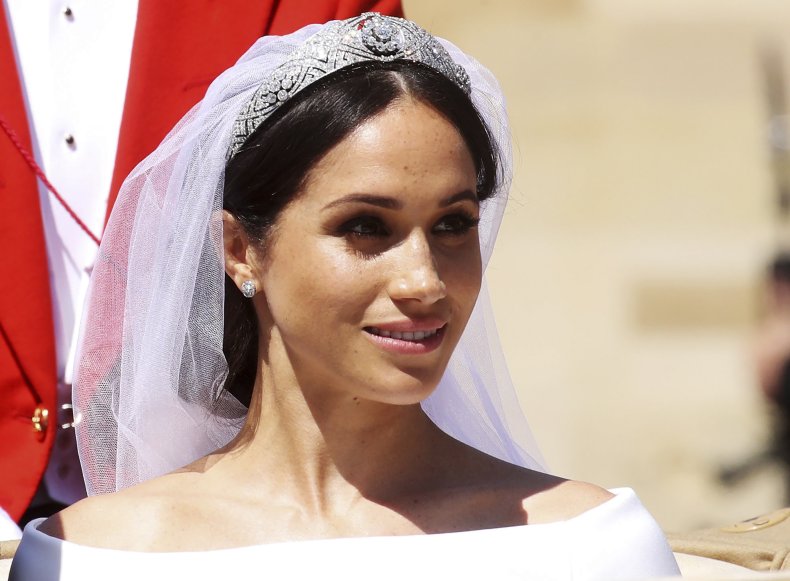 Kate began referring to herself as a princess after she took on the princess of Wales title following the queen's death in September, although she has yet to abbreviate it to Princess Catherine or Princess Kate.
Princess Michael of Kent, born Baroness Marie-Christine von Reibnitz, is an exception. She famously apologized after accusations of racism in December 2017 when she wore a "Blackamoor" brooch during one of Markle's first royal events.
She became Princess Michael after marrying Prince Michael of Kent, Elizabeth's cousin, in 1978, and that is how she styles herself.
Markle has never used the title princess Henry of Wales, though she has listed her occupation as "Princess of the United Kingdom" on documentation for her U.K. nonprofit Sussex Royal, which later closed down.
It remains an open question whether Harry and Meghan's children, Archie and Lilibet Mountbatten-Windsor, will be given prince and princess titles.
The George V Convention states that all grandchildren of the monarch get those titles. This suggests that Archie and Lilibet would have become prince and princess after the queen died and King Charles III became the new monarch.
But so far no titles have been announced for Archie and Lilibet or any other grandchildren, such as the children of Princess Beatrice and Princess Eugenie.
Prince George, Princess Charlotte and Prince Louis were given their titles at birth because they are the children of a future king, Prince William.
That distinction is based on a "Letters Patent," a form of royal announcement, that was issued by the queen on December 31, 2012. It states that "all the children of the eldest son of the Prince of Wales should have and enjoy the style, title and attribute of Royal Highness with the titular dignity of Prince or Princess."
The ruling in turn means any children Prince George (the family's eldest child) might have would be princes and princesses, though not necessarily those of Charlotte and Louis until Prince William is king—and perhaps not even then.
Do you have a question about King Charles III, William and Kate, Meghan and Harry or their family that you would like our experienced royal correspondents to answer? Email royals@newsweek.com. We'd love to hear from you.