Turkey Installs 'Mask Cams' at Bus Stops to Call Out People Not Wearing Facial Coverings
Here's a way to ensure that bus users are wearing facial coverings before they catch a ride: Install a mirror-cam that covers their entire face with the coronavirus. That's exactly the approach that one city in Turkey has taken to remind bus riders to put on their masks.
As noted by a recent Euronews video, "mask cams" were installed at bus stops around the city of Trabzon in Turkey. At first glance, it looks like the display is just showing surveillance footage of the bus shelter. However, through facial-recognition technology, the mirror cameras are able to identify those who aren't wearing a face mask at all, as well as people who aren't wearing their masks properly (like, say, those who don't make sure the mask is completely covering their nose and mouth). With the help of CCTV footage, the faces of those who are caught on camera not taking the proper precautions get a huge image of the virus covering their face when they look into the screen.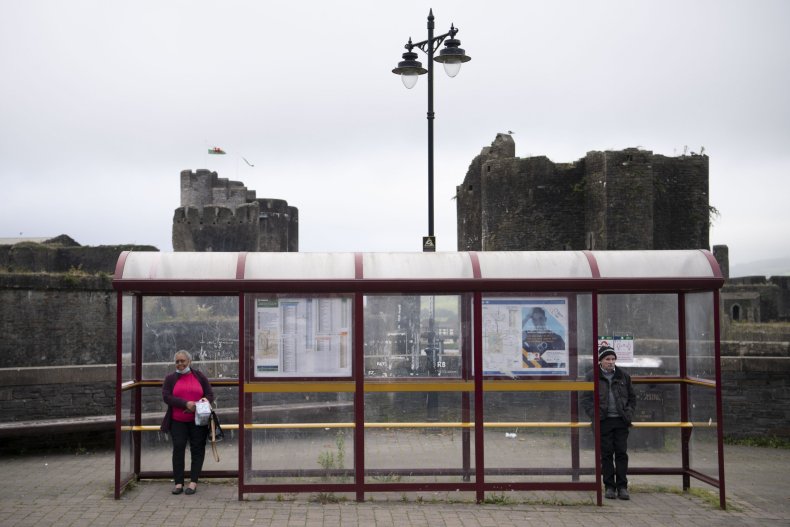 The idea behind the mask cams is to encourage people in the town to be mindful of the ongoing COVID-19 pandemic. Murat Zorluoğlu, mayor of Trabzon, told Euronews that the new approach is a proven way to promote safety, raise awareness about safety measures and prevent residents from having to pay a hefty fine.
Turkey has implemented nationwide regulations requiring all citizens to wear a face-covering whenever they are outside of their homes, lest they be privy to a fine of 900 Turkish lira—or $115 in U.S. dollars. That means people are expected to wear masks in public places, including when they are outdoors traveling from one location to the next.
Since the coronavirus first emerged in Turkey in March, the country saw its highest daily number of documented COVID-19 cases on Friday, with some 32,736 new cases reported. On Saturday, figures dipped slightly to 31,896 new confirmed cases.
Overall, 533,198 cases of coronavirus have been confirmed in Turkey since the pandemic began earlier this year. More than 14,700 people in the country have died from COVID-19. Globally, the country ranks fourth in the highest number of coronavirus cases, trailing behind the United States, India and Brazil.
President Recep Tayyip Erdoğan mandated the country's latest lockdown—the first since May—on December 1. Under the new restrictions, people across Turkey are prohibited from leaving their homes between 9 p.m. and 5 a.m. local time, Monday through Thursday. Weekend measures are even more strict, with orders requiring residents to stay in their homes from 9 p.m., Friday, until 5 a.m. local time, Monday.