Detroit Police Chief Says He's 'Excited' About Relationship with Federal Agents
Detroit Police Chief James Craig says he is "excited" about his department's relationship with federal law enforcement agents being sent to the city.
The Department of Justice (DOJ) has announced that federal agents will be sent to Detroit as well as Cleveland and Milwaukee to help tackle violent crime in the cities.
In an appearance on Fox and Friends, Craig said he welcomes the intervention, and said the relationship between local and federal law enforcement is "not new."
"We're excited about our continued relationship with our federal law enforcement partners," Craig said. "This is not new. Back in December of last year, I stood with Attorney General (William) Barr, stood with the heads of all the DOJ operations, FBI, DEA... and we stood there as partners. And we're still partners. Nothing has changed."
Craig added that the change between then and now is the "renewed commitment" to enhancing efforts at combatting violent crime.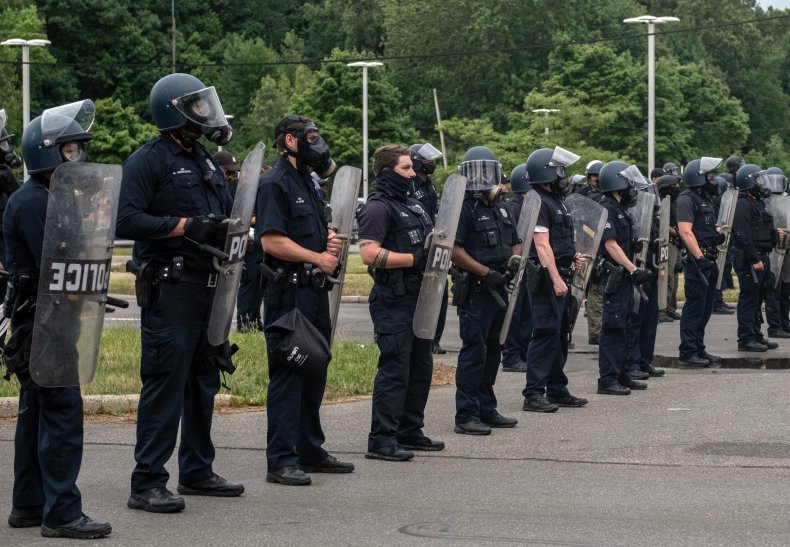 On Wednesday, the DOJ said that around 42 agents from the FBI, DEA and ATF would be sent to Detroit as part of an expansion of Operation Legend.
"These federal agents will work cooperatively with the Detroit Police Department to combat gun and gang violence, as they have been doing since December 2019," the DOJ said in a news release.
U.S. Attorney Matthew Schneider said earlier this week that federal agents were not coming to Detroit to interfere with protesters, but to tackle violent crime in the city , according to The Detroit Free Press.
According to the newspaper, there has been a sharp spike in violence in Detroit with shootings up 53 percent and homicides up by 31 percent. Almost 380 people have been shot in the last two months alone, with 63 dead as a result.
Craig said there has been little violence at protests in Detroit, unlike the unrest seen in cities like Portland and Seattle.
Portland has seen more than two months of protests against police brutality and racism since the killing of George Floyd, a Black man, in Minneapolis police custody in May.
Early in July, the Trump administration deployed federal law enforcement agents to protect federal property in the city and quell the unrest, but local and state officials said their presence only inflamed tensions.
Federal agents for weeks emerged from a federal courthouse to blast tear gas and less-lethal munitions at protesters, but the city saw peaceful demonstrations on Friday night after federal agents withdrew.
But protests in Detroit, on the other hand, have been "by and large peaceful," Craig said.
He also said there is also little support for defunding the police in the city—one of the main things Black Lives Matter protesters across the U.S. have been calling for.
"No-one's talking to Detroiters. All this business about 'defund the police'... Talk to the average Detroiter and see what they have to say. The protesters are saying something totally different," Craig said. "What's going on in these other cities is shameful... but Detroiters want enforcement."
Michigan Rep. Rashida Tlaib, who represents the state's 13th congressional district that includes part of Detroit, has expressed her opposition, saying the deployment of federal agents will "disproportionately target Black and brown people."
The U.S House passed a bill on Friday with an amendment presented by Tlaib and others that would prohibit the use of funds to send federal agents into Detroit and other cities under Operation Legend and Operation Relentless Pursuit.
Tlaib said the operations were a "blatant attempt to sow fear and division" in a bid to help President Donald Trump's re-election campaign.
"Operation Legend and Operation Relentless Pursuit are a continuation of the same disgraced tough on crime policies that have failed to keep our communities safe while disproportionately locking up Black and brown people," Tlaib said in a statement.
"Many communities in my district have been systematically overpoliced, and at a time when trust is low and people are crying out for justice, the presence of unidentified federal agents in our neighborhoods only serves to escalate conflict that will disproportionately harm our neighbors of color.
"I am proud to cosponsor this amendment to defund this blatant attempt to sow fear and division in order to save the President's poll numbers."