John Boehner Calls Ted Cruz a 'Reckless A**hole' in New Book Excerpt
In a new book excerpt published by Politico on Friday, former House Speaker John Boehner summarizes the Republican Party's descent into "crazytown" and names Senator Ted Cruz of Texas as a central figure responsible.
"By 2013 the chaos caucus in the House had built up their own power base thanks to fawning right-wing media and outrage-driven fundraising cash. And now they had a new head lunatic leading the way, who wasn't even a House member," Boehner writes in his forthcoming book, On the House: A Washington Memoir.
He continues, "There is nothing more dangerous than a reckless a**hole who thinks he is smarter than everyone else. Ladies and gentlemen, meet Senator Ted Cruz. He enlisted the crazy caucus of the GOP in what was a truly dumba** idea. Not that anybody asked me."
Cruz addressed the quotation last month after it was shown on the back cover of Boehner's book, writing: "Amazing. In my whole life, I haven't spoke 50 words to John Boehner. But his lead book blurb is his latest insult directed at me. I guess he thinks that will help him sell books?"
Boehner often sparred with Cruz during his time in Congress and has not held back on his criticism of the Texas Republican since leaving office. In February, it was reported that while Boehner was recording the audio version of his book he went off script and said, "Oh, and Ted Cruz, go f**k yourself."
Boehner served as speaker from 2011 to 2015. In the excerpt of his memoir published Friday, the Ohio Republican recalled the 2010 red wave that elected a record number of freshman conservatives to the lower chamber.
Boehner describes the incoming class as lawmakers who didn't care for legislative victories, but "wanted wedge issues and conspiracies and crusades." The GOP during that time, he said, was largely fueled by their disdain for then-President Barack Obama.
Key players in spouting off "this crazy nonsense," as Boehner puts it, about Obama's citizenship and birthplace, among other rumors, were Sean Hannity, Rush Limbaugh, Roger Ailes and Rupert Murdoch.
"All of this crap swirling around was going to make it tough for me to cut any deals with Obama as the new House Speaker," the excerpt reads. "Of course, it has to be said that Obama didn't help himself much either. He could come off as lecturing and haughty. He still wasn't making Republican outreach a priority. But on the other hand—how do you find common cause with people who think you are a secret Kenyan Muslim traitor to America?"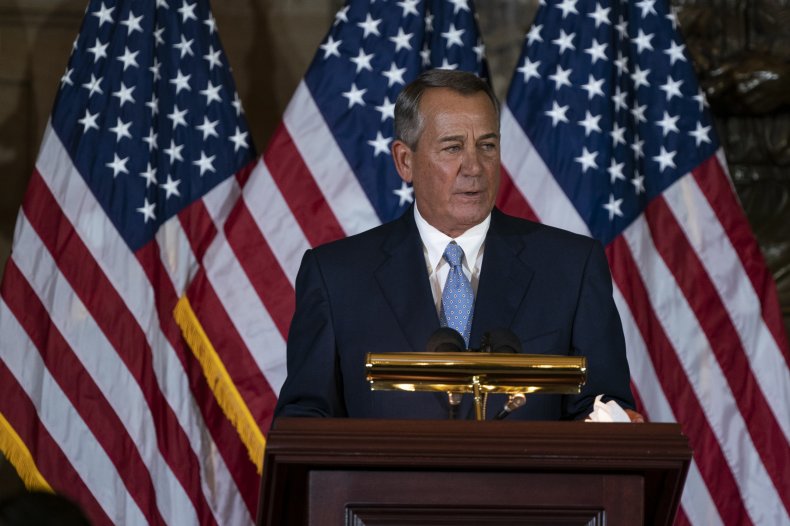 Boehner argues that conservative-leaning news outlets such as Fox News turned people "who used to be fringe characters into powerful media stars," such as Michelle Bachman.
The former Minnesota congresswoman who ran for president in 2012 is described by the former Republican leader as a "lunatic." Boehner writes that Bachmann wanted to be placed on the influential House Ways and Means Committee—a request he says he denied.
Boehner writes that her response was to threaten to tell Hannity, Limbaugh and "everybody at Fox" that "this is how John Boehner is treating the people who made it possible for the Republicans to take back the House."
"I wasn't the one with the power, she was saying. I just thought I was. She had the power now," Boehner writes. "She was right, of course."
Newsweek reached out to Senator Cruz's office for a response to Boehner's book excerpt, but did not receive a response prior to publication.
This story was updated on April 2 to include a Twitter post from Senator Ted Cruz.