Trump Calls Single L.A.S.D. Shooting Suspect Part of 'Animals That Must Be Hit Hard'
President Donald Trump has taken to Twitter after a gunman shot two deputies multiple times in Compton, Los Angeles on Saturday evening.
The Los Angeles County Sheriff's Department (LACSD) posted a video on the social media platform showing the suspect approaching a patrol car, firing several shots at the deputies from "point-blank range" and then running away.
President Trump retweeted the video and wrote in response: "Animals that must be hit hard!"
Trump has taken a hardline stance against recent demonstrations around the country, which began in response to the killing of George Floyd at the hands of police.
While the president initially condemned the killing he has issued calls for police reform that Democrats and protesters summarily dismissed as inadequate. Trump has also repeatedly referred to demonstrators in demonizing language, often lumping together all protesters with those who have looted or committed violent acts.
He also regularly attributes violence during protests to the anti-fascist movement Antifa, often without providing evidence.
In August, Trump spoke at a rally in New Hampshire where he said "they're not protesters. Those are anarchists, they're agitators, they're rioters, they're looters."
"They're just looking for trouble. Has nothing to do with George Floyd, has nothing to do with anything. They don't even know who George Floyd is. These are just bad people, troublemakers and they shouldn't be representing our country at important events, and we've got to stop it."
On Saturday, Trump held a rally in Nevada, a key battleground state that hasn't voted for a Republican president since 2004.
"The bottom line is, when we win, America wins," Trump told supporters in Minden, around 50 miles south of Reno, Fox News reported.
Following the rally, the president tweeted: "I am running for re-election to bring prosperity to Nevada, to put violent criminals behind bars, and to ensure the future belongs to AMERICA—NOT China. If we win, AMERICA WINS! If Biden wins, China wins. If Biden Wins, the rioters, anarchists, and arsonists win. VOTE! #MAGA."
The two sheriff's deputies who were shot multiple times on Saturday are "fighting for their lives," according to the LACSD.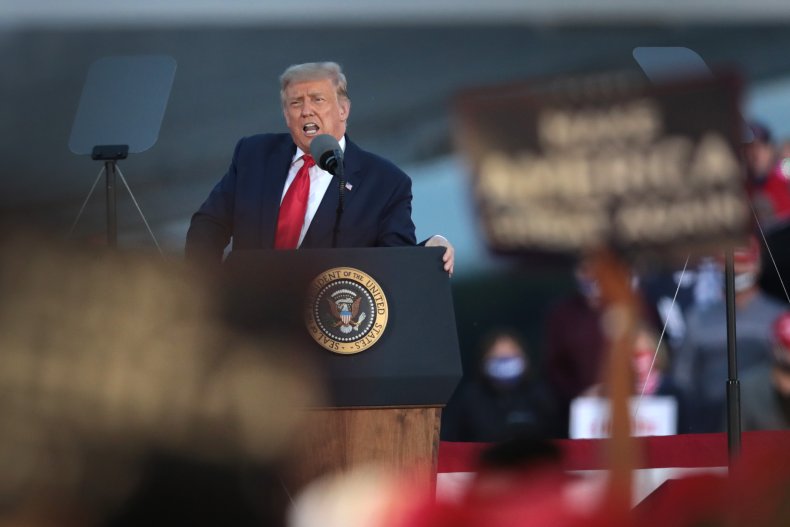 "One male deputy and one female deputy were ambushed as they sat in their patrol vehicle. Both sustained multiple gunshot wounds and are in critical condition. The suspect is still at large," the department tweeted. "The gunman walked up on the deputies and opened fire without warning or provocation."
Sheriff Alex Villanueva described the shooting as a "cowardly act" during a press conference on Saturday, ABC7 reported.
"The two deputies were doing their job, minding their own business, watching out for the safety of the people on the train. To see somebody just walk up and start shooting on them. It pisses me off. It dismays me at the same time. There's no pretty way to say it."
There have been several protests in L.A. in recent days against fatal shootings at the hands of police, including that of 18-year-old Salvadoran American Andres Guardado who was shot in the back five times by a deputy in June. Police said Guardado produced a gun during the chase which lead to his death, LAist reported.