As the remnants of Hurricane Ida devastated the New York City metropolitan area on Wednesday and into Thursday morning, Representative Alexandria Ocasio-Cortez took aim at the opponents of her signature climate policy proposal, the Green New Deal.
At least 22 people died in the New York and New Jersey area as Ida caused record rain, tornadoes and severe flooding, NBC News reported on Thursday morning. Videos of flooded New York City subway stations and basement apartments circulated widely on social media, as the city's public transit system came to a standstill amid the storm's fallout.
"Experiencing all this flooding in NYC right now and thinking about all the politicians who told me that pursuing a Green New Deal to adapt our nat'l infrastructure to climate change is 'unrealistic' & 'too expensive,'" Ocasio-Cortez, a progressive New York Democrat, tweeted late Wednesday evening. "As if doing too little is the responsible, adult thing to do?" the congresswoman asked.
In a follow-up post, Ocasio-Cortez warned that the world is "running out of time to act on climate." She wrote that both Republicans and Democrats often "engage in misleading rhetoric and funny math to convince the public we are addressing climate change more than we are." The New York lawmaker asserted that "we need a Green New Deal now."
In another tweet Thursday morning, Ocasio-Cortez said the "climate crisis" is also an "inequality crisis."
"Many of these deaths occurred in basement dwellings, many of which are illegal and growing in # due to the unaffordable housing crisis, but do not meet safety standards required to keep people safe in incidents like flash floods," she wrote.
New York City Mayor Bill De Blasio, a Democrat, described the storm as a "historic weather event." New Jersey's Governor Phil Murphy, a Democrat, warned on Twitter that "it's not safe to drive."
Amid the storm, New York City implemented a travel ban, forbidding all residents from being on the roads until 5 a.m. on Thursday as emergency crews responded to the crisis. New York's Governor Kathy Hochul told CNN there was "far more [rain] than anyone really expected," saying that it left the region in a "very dire situation."
Ocasio-Cortez and Senator Ed Markey, a Massachusetts Democrat, first publicly laid out the Green New Deal policy framework in February 2019. The policy proposal put forward broad goals to drastically cut carbon emissions across the U.S. economy. It tackled transportation, electricity production and agriculture—while aiming to create new jobs to boost the economy.
"Even the solutions that we have considered big and bold are nowhere near the scale of the actual problem that climate change presents to us," Ocasio-Cortez told NPR when the proposal was released. The congresswoman said that "it could be part of a larger solution, but no one has actually scoped out what that larger solution would entail. And so that's really what we're trying to accomplish with the Green New Deal."
Republicans—who have long been skeptical of the well-established science showing climate change—quickly slammed the policy proposal. Some moderate Democrats have also raised concerns or attacked the Green New Deal as "unrealistic," as Ocasio-Cortez tweeted. Speaker of the House Nancy Pelosi, a California Democrat, was initially dismissive of the proposal—appearing to mock it during a February 2019 interview with Politico.
"The green dream or whatever they call it, nobody knows what it is, but they're for it right?" Pelosi said at the time.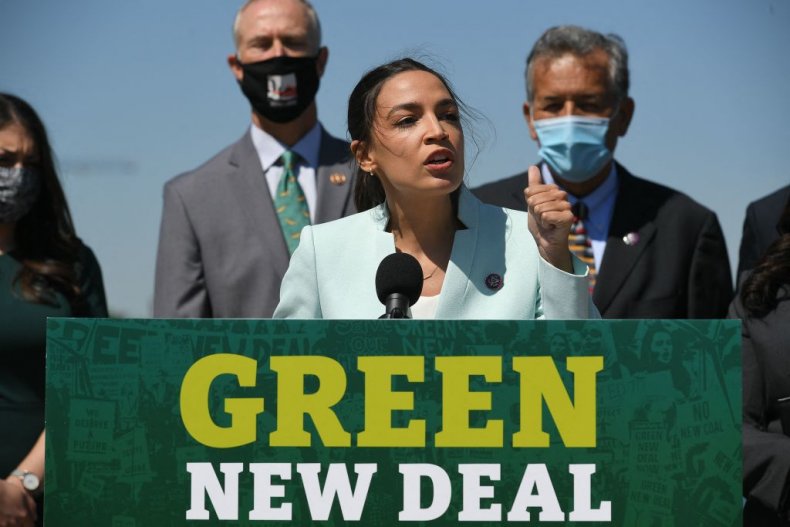 Although President Joe Biden and most Democrats have embraced addressing climate change through the two massive infrastructure packages currently making their way through Congress, progressive Democrats have argued these measures do not go far enough to address the rapidly developing crisis. The United Nations warned in a major August report that global temperatures are getting so hot that they will likely—within the next decade—surpass the dangerous levels world leaders have attempted to prevent.
"This report tells us that recent changes in the climate are widespread, rapid and intensifying, unprecedented in thousands of years," Intergovernmental Panel on Climate Change Vice Chair Ko Barrett, a senior climate adviser for the U.S. National Oceanic and Atmospheric Administration, warned after the U.N. document's release, the Associated Press reported.
Newsweek reached out to Ocasio-Cortez's press representatives for further comment but did not immediately receive a response.