Brett Giroir, Trump's COVID Testing Czar, Disputes Biden's Timeline for Gatherings
Former Assistant Secretary of Health Brett Giroir is disputing President Joe Biden's proposed timeline for the return of social gatherings, arguing that Americans should be able to socialize much sooner than the president is suggesting.
Giroir, who previously served as the Trump administration's "testing czar" during the coronavirus pandemic, said Americans should be able to attend small gatherings long before Biden's July Fourth suggestion.
"Way back in November, we talked about every American having vaccines available by June, and that was with the vaccines that we had then available, so this is about the same target that we had," Giroir told Fox News on Friday. "It was kind of crazy, what was said about July Fourth."
"If you're and adult and you're meeting outside…you can do that now. There's no reason you can't have outdoor, small gatherings and have a barbecue outside. By July, we should be almost back to normal with herd immunity, with everybody getting vaccines," he said. "I don't know what reality he's talking about."
"It seemed very disconnected from the reality and where we are and what the science says," he added. "Science says small gatherings outdoors is fine."
In his presidential address on Thursday night, Biden announced that all adults should be eligible for the COVID-19 vaccine by May 1 and promised that there would be a return to normalcy by July Fourth, when Americans could begin having small gatherings safely again.
Giroir said he had high expectations for the president's remarks, but was "sorely disappointed" by what Biden had to say in his first prime-time White House address to the public.
"I was really sorely disappointed—I actually was pained, because it was a lost opportunity for the president to level with and be honest with the American people about the past present and future," Giroir said. "He did none of that, and I think the record needs to be set straight."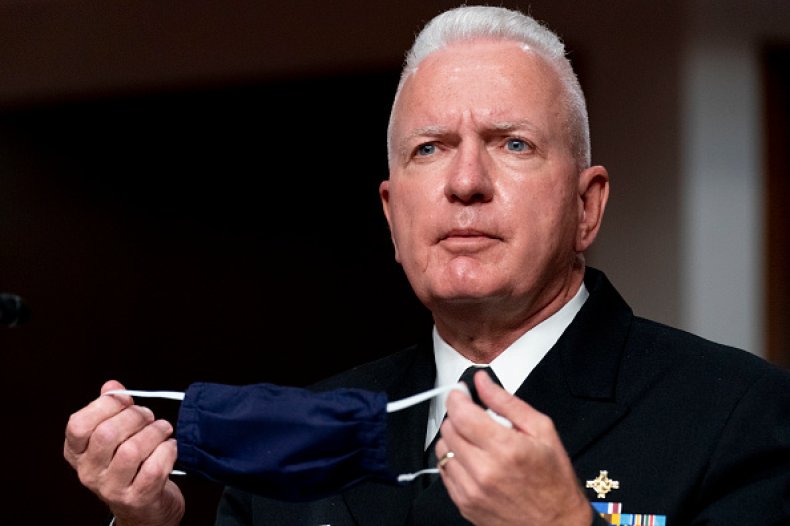 The former health official argued that not only was the timeline from the Biden administration behind what it should be, but also that Americans should be doing more to return to daily life and that governors should be allowing the reopening of schools immediately.
"I really think we should have more travel, more gatherings as we get more herd immunity," Giroir said.
"Schools—it's a self-inflicted injury for many of the Democratic states. In Texas, children have been back in school since August. Every child needs to be back in school right now," he added.
Biden has vowed to open the majority of K-8 schools during his first 100 days in office, but some states, like California, have struggled to reach agreement with teachers unions over how to do so safely.
Newsweek reached out to the White House for comment but did not hear back before publication.