How Kate Middleton Sparked Rare Royal Controversy With BAFTA Gown
For Kate Middleton fans, the annual British Academy Film Awards (BAFTAs) have become a highly anticipated event providing the princess with an opportunity to dazzle on the red carpet alongside her husband, Prince William, who has been BAFTA's president since 2010.
Between 2017 and 2020, Kate deployed a number of show-stopping dresses, though one in particular, worn in 2018, landed her in a rare spot of royal trouble as she walked the line between remaining a neutral party on socio-political issues, and being a role model for women around the world.
Why? The 2018 awards season was dominated by the Time's Up and MeToo movements as stars, mostly actresses, banded together to show solidarity against sexual abuse, harassment or intimidation within Hollywood and the wider creative industries.
Reflecting this, many film and TV actresses and industrialists collectively decided to wear black during the 2018 awards season as a unifying sign of support.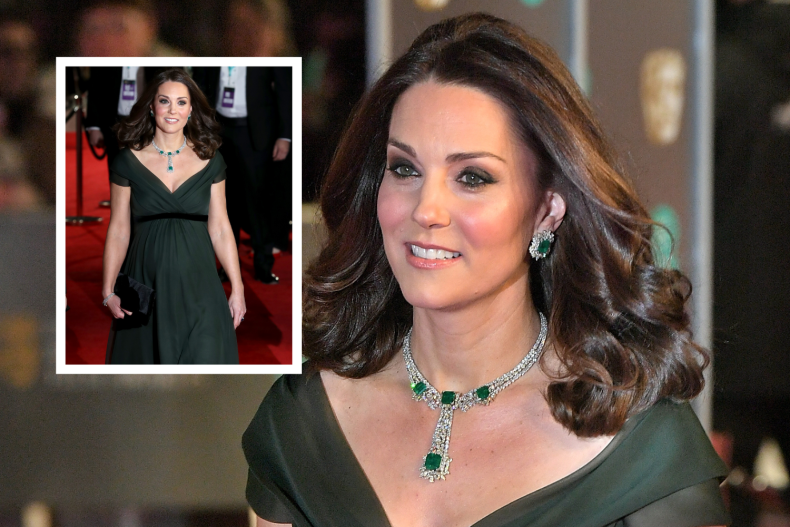 As perhaps the most prominent female attendee at the BAFTAs that year, understandably attention turned to what Kate would be wearing and whether she would go out on a limb and boldly support Time's Up and MeToo.
Though many would argue that the movements were beyond political, others argued otherwise and as such, it would have been a step into a grey area that Kate has so far in her royal career, successfully avoided, to join those in wearing statement black on the evening.
Prior to the event, many articles were written speculating as to what Kate would wear and this was bolstered by social media discourse.
Finally, on the evening, Kate, to the surprise of many and expectation of others, sidestepped the issue by wearing a dark tone of green. Perhaps though, in an unspoken and latterly unconfirmed nod to Time's Up and MeToo, the dress featured a black velvet waistband, highlighted prominently by the fact that the princess was pregnant with her third child.
The layered chiffon evening gown with an empire waistline was designed by Jenny Packham and was previously worn on a visit to New York in 2014. To accessorize, the princess wore a suite of diamond and emerald jewelry.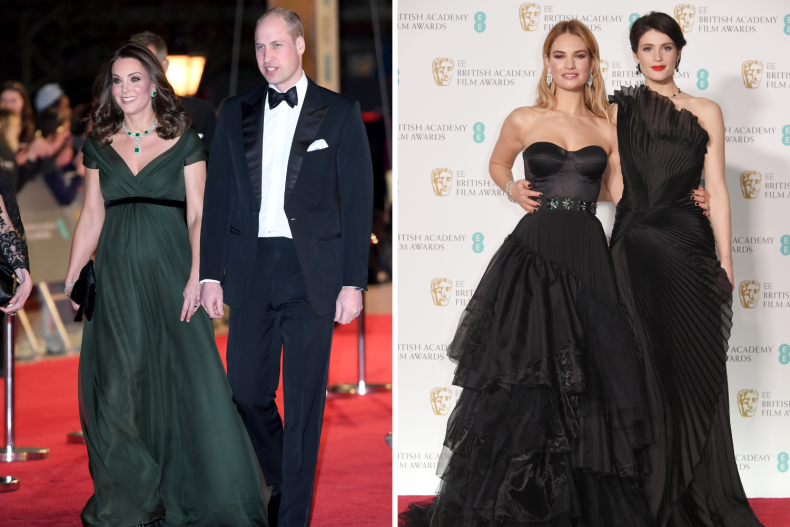 Kate's decision not to wear black earned her swift criticism on social media and provoked commentary from stars after the ceremony.
"Disappointed in #KateMiddleton #DuchessofCambridge not wearing black to the #EEBAFTAs It's not a political thing. Its a woman thing! #TimesUp #StandTogether," wrote one Twitter user.
When asked about the princess after the awards had been given out, winner Allison Janney told interviewers: "I would never judge anyone's choice. I think she looked absolutely beautiful, and I'm so happy for her, and I think she's an extraordinary woman. And I'm so happy to see she's pregnant again. She can wear whatever she wants to wear."
As the fallout from Kate's dress choice was still being discussed, the subject of royalty and the MeToo movement was pulled into focus again, 10 days after the BAFTAs, when Kate and William, and the newly engaged Prince Harry and Meghan Markle attended a forum for their joint Royal Foundation.
The event was an opportunity for the foursome to set out their goals for the foundation as well as to establish their individual interests.
Meghan made headlines with a discussion point she raised about her particular areas of intended focus, which included an explicit reference to MeToo.
"I hear a lot of people speaking about girls' empowerment and women's empowerment—you will hear people saying they are helping women find their voices," she said.
"I fundamentally disagree with that because women don't need to find their voices, they need to be empowered to use it, and people need to be urged to listen.
"Right now, with so many campaigns like #MeToo and Time's Up, there's no better time to continue to shine a light on women feeling empowered and people supporting them."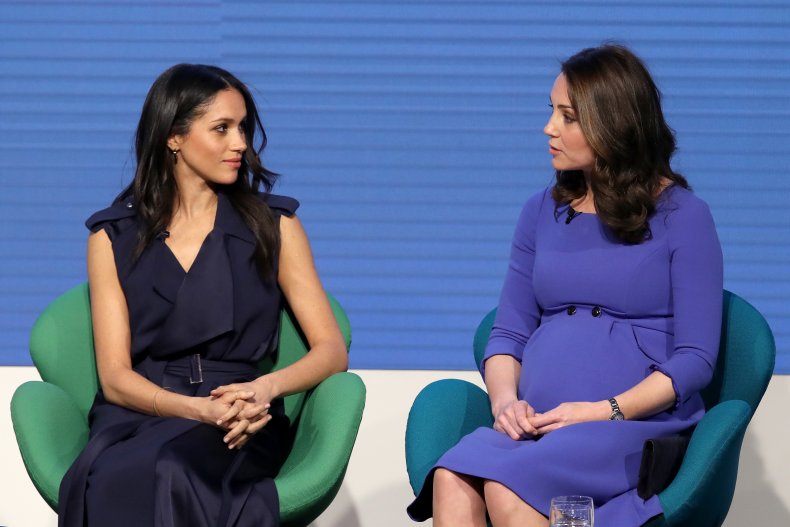 Meghan's head-on tackling of the issue that Kate had only subtly nodded to just days before saw the soon-to-be sisters-in-law compared in the media, something which Prince Harry later claimed in his memoir caused friction between them.
"Days later, controversy," the prince wrote in Spare, published in January. "Something about Meg showing support for #MeToo, and Kate not showing support—via their outfits? I think that was the gist, though who can say? It wasn't real. But I think it had Kate on edge, while putting her and everyone else on notice that she was now going to be compared to, and forced to compete with, Meg."
In 2019 and 2020, Kate wore white dresses to the BAFTAs and missed the events in 2021 and 2022 owing first to the death of Prince Philip the day before the ceremony, and then what was described as "diary constraints" ahead of a royal tour of the Caribbean.
William and Kate will attend the 2023 ceremony which will take place on February 19 in London.
James Crawford-Smith is Newsweek's royal reporter based in London. You can find him on Twitter at @jrcrawfordsmith and read his stories on Newsweek's The Royals Facebook page.
Do you have a question about King Charles III, William and Kate, Meghan and Harry or their family that you would like our experienced royal correspondents to answer? Email royals@newsweek.com. We'd love to hear from you.