Sponsored Article
Most Comfortable Mattresses
Five recommendations for sleepers to consider.
When it comes to getting a good night's sleep, comfort is king. Without a comfortable mattress, you're likely to toss and turn, trying desperately to fall asleep. You're also more likely to wake up sore and stiff if you're not sleeping on a comfortable, supportive mattress.
However, many shoppers don't have the time to sift through mattress options and determine the most comfortable mattress for their needs. So to make shopping easier in today's fast-paced world, we've rounded up our top five recommendations. As always, the prices listed may fluctuate over time.
Most Comfortable Mattresses
Most Comfortable Mattress Overall:

Amerisleep AS3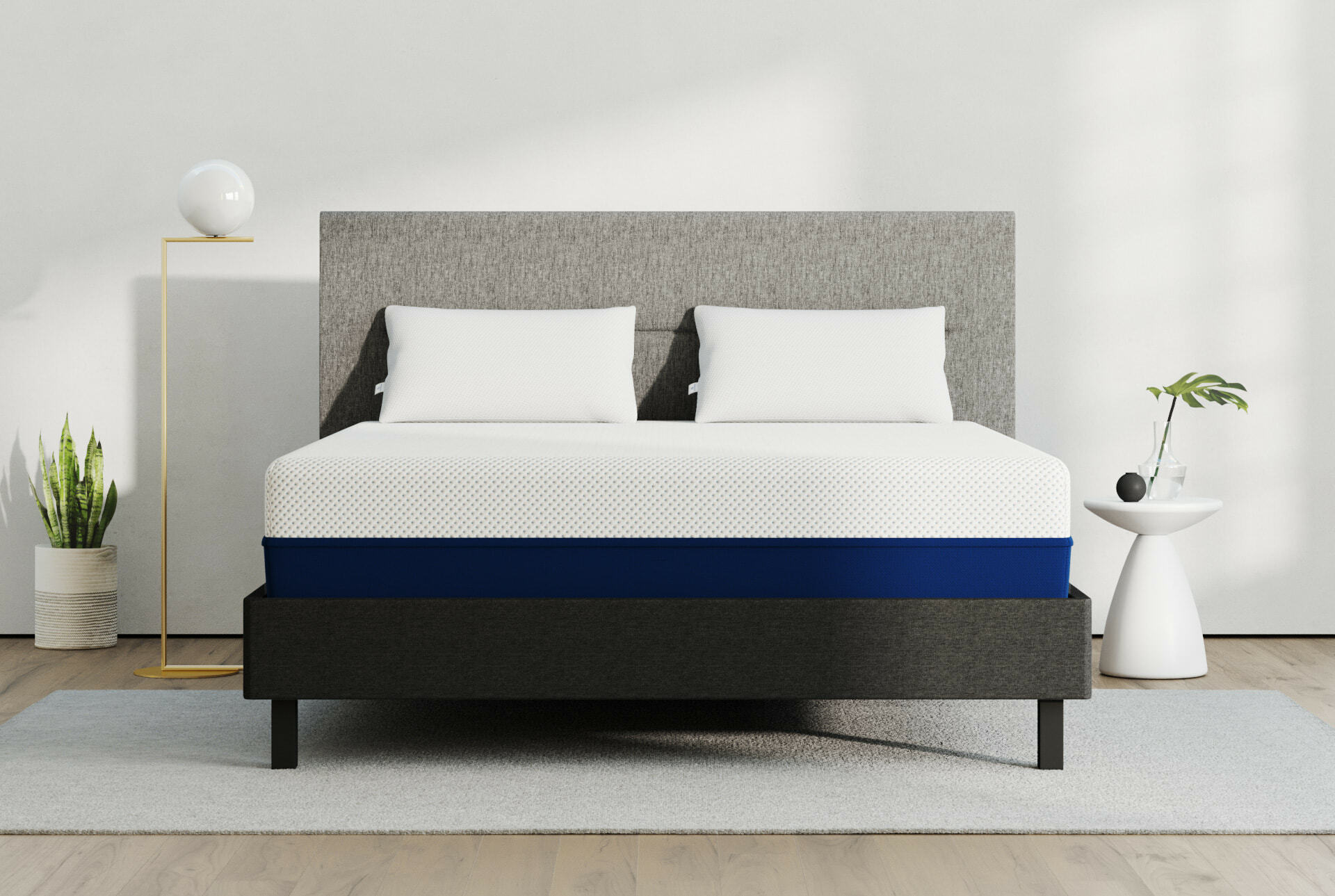 Details
Price Range: $804 to $1678
Mattress Type: Memory Foam
Mattress Height: 12 Inches
Mattress Firmness: Medium (5 to 6 on the firmness scale)
Available in: twin, twin XL, full (double), queen, king, California king, and split king
Sleep Trial: 100 Nights
Warranty: 20 Years
Shipping: Free
Mattress Highlights
Plant-based memory foam top, with all layers CertiPUR certified
Targeted support from the transition layer for an adaptable surface
Mattress's core extends the bed's overall expected longevity
Recommended For
Most sleeping styles
Couples who don't share comfort preferences
Hot sleepers seeking a cooling memory foam mattress
Eco-conscious shoppers seeking a greener bed
What trips many shoppers up when it comes to choosing the most comfortable mattress is their specific idea of what's comfortable. Some prefer a softer mattress, others a firmer bed. There's no such thing as a mattress that's universally comfortable, but we have to say that the Amerisleep AS3mattress comes closer to that ideal than most beds would.
Amerisleep specializes in offering different mattresses of varying types and firmnesses. The AS3 model is the company's medium option, created to balance support and cushioning features and feel comfortable to most sleepers.
Plus, it's the company's most reviewed mattress. The AS3 possesses a 4.8-star rating averaged from almost 6700 reviews, with more than 6000 of those reviews praising the bed as "comfortable." We recommend the AS3 for single sleepers and couples who want to share a bed without disagreement or discomfort.
The AS3 stands 12 inches tall and possesses three layers of foam inside a soft, breathable mattress cover.
First is a layer of Bio-Pur® foam, a memory foam made with plant-derived oils and more traditional ingredients. Not only is Bio-Pur® more sustainably produced than the average memory foam, but the resulting material is also more breathable and responsive. It's quick to adapt to a person's movements, cushioning the body without trapping the sleeper.
While the top layer may be the official comfort layer, it's difficult to say that the AS3's transition layer isn't significantly contributing to its comfort. This second layer is Affinity foam with HIVE® technology. Hexagons are cut into the surface of this layer to create five different support zones, with a more flexible cushion offered in the shoulders and hips areas while the rest of the mattress focuses on spine support.
The bottom layer of the AS3 is a thick base of Bio-Core® foam. The material resists sagging and compression so well that Amerisleep offers an industry-leading warranty with the mattress.
The AS3 ships free and is backed by a 100-night sleep trial and a 20-year warranty.
Most Comfortable Cooling Mattress:

Zoma Mattress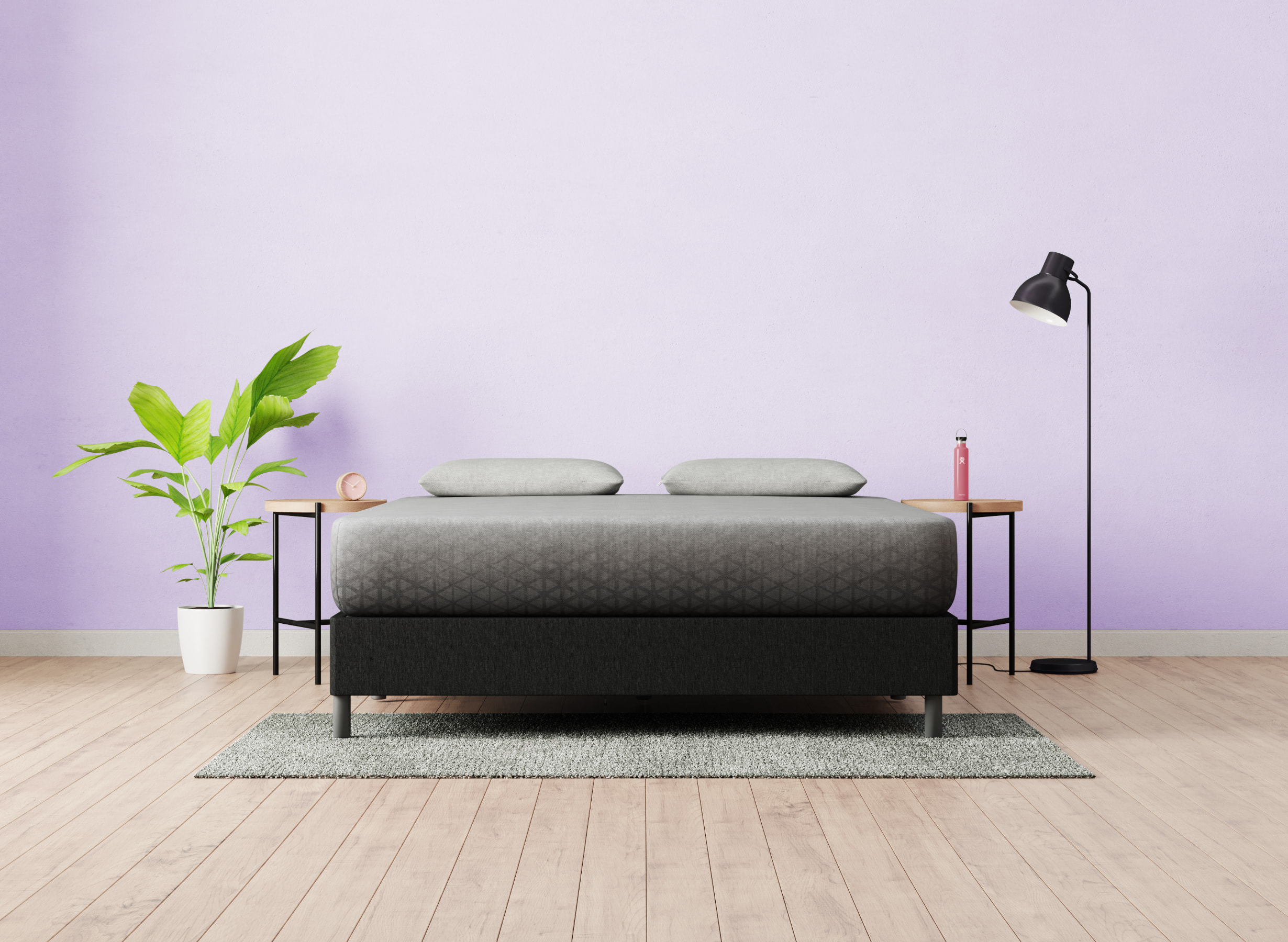 Details
Price Range: $499 to $1198
Mattress Type: Memory Foam
Mattress Height: 12 Inches
Mattress Firmness:
Available in: twin, twin XL, full (double), queen, king, California king, and split king
Sleep Trial: 100 Nights
Warranty: 10 Years
Shipping: Free
Mattress Highlights
Gel memory foam layer with pressure-relieving, cooling cutouts
Buoyant transition foam responds to movements for less sinkage
Sturdy core of long-lasting poly-foam
Recommended For
Hot sleepers and people in warmer climates
Athletes and active people of most sleep styles
Sleepers with chronic pain conditions
Have you ever woken up in the middle of the night hot and sweaty? It's not an uncommon issue and keeps you from feeling rested in the morning. Coolness is a priority when it comes to sleeping comfortably and waking up refreshed.
The Zoma mattress design team drew upon decades of experience when creating the Zoma Mattress. The result is a mattress that promotes undisturbed sleep with cooling features, extra pressure relief from the bed's zoned support, and an adaptable surface.
The company primarily targets the athletic market, but almost anyone can improve their sleep by using a mattress. We recommend it for people who tend to sleep hot from high body temperatures or warm climates, along with individuals who want to relieve persistent aches and pains.
Cooling gel memory foam tops the Zoma Mattress, keeping a sleeper from overheating and waking prematurely. The gel memory foam inside the Zoma Mattress also has a special feature known as Triangulex™.
The triangular cutouts that form Triangulex™ are placed in the mattress's head and foot for greater contouring. The increased flexibility from the cutouts boosts the mattress's pressure-relieving capabilities.
The mattress's transition layer is Reactiv™ foam. Zoma engineered this material to duplicate the feel of latex without the cost, establishing a more responsive surface.
At the base of the mattress is Support Plus foam. As the name implies, this foam layer adds sturdy, uncompromising support for a healthy spine alignment and a long-lasting mattress.
The Zoma Mattress has a 100-night sleep trial and a 10-year warranty.
Most Comfortable Mattress for the Money:

Vaya Mattress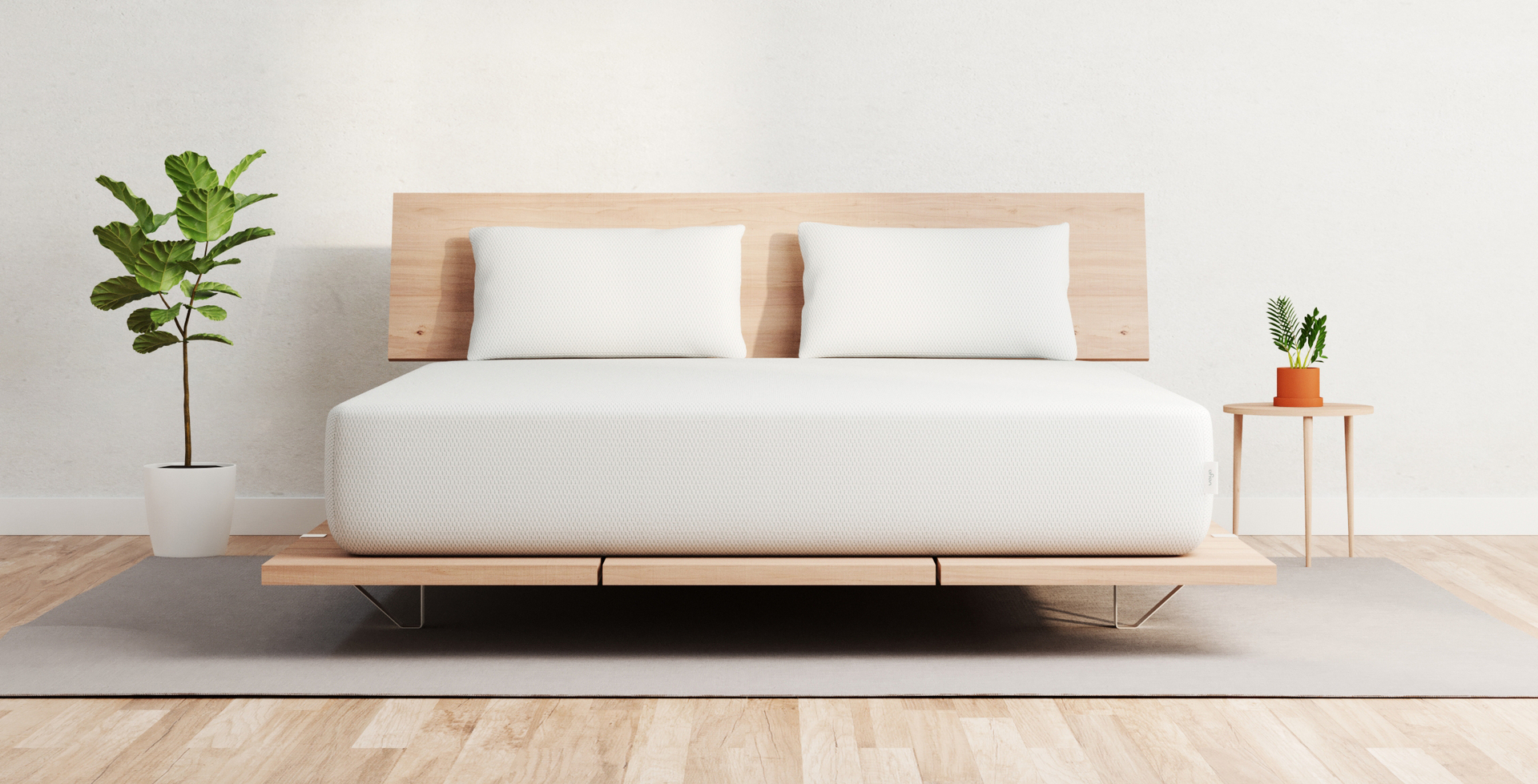 Details
Price Range: $349 to $799
Mattress Type: Memory Foam
Mattress Height: 12 Inches
Mattress Firmness: Medium (5 to 6 on the firmness scale)
Available in: twin, twin XL, full (double), queen, king, and California king
Sleep Trial: 100 Nights
Warranty: 10 Years
Shipping: Free
Mattress Highlights
Vaya Comfort Foam engineered for a lightweight, airy cushion
Durable base extends the bed's lifespan for a greater expected value
Supports all sleep positions and body types
Recommended For
Budget shoppers and bargain hunters
Side, back, and stomach sleepers
Couples seeking an inexpensive larger mattress
Sleeping on a comfortable mattress shouldn't be out of your reach just because you don't have a lot of money to spend. That's why when it comes to the best mattresses for the money that provide bang for your buck, we have to recommend the Vaya Mattress.
Vaya makes their mattresses with their motto "pure comfort" in mind, maximizing the potential of high-quality materials with a simple mattress structure. The original Vaya Mattress has a simple two-layer design that provides what most sleeping styles need to feel comfortable.
The top layer is conforming, lightweight Vaya Comfort Foam. This layer is designed to provide "cool comfort with bounce," as Vaya puts it on their webpage. The bottom layer is specialty base foam, designed to distribute weight and pressure evenly for greater comfort.
Vaya also offers a hybrid model for sleepers who prefer a springier mattress. The original Vaya Mattress was our top suggestion due to its lower price tag, but some budget shoppers may find the Vaya Hybrid provides for their sleep needs far better.
The Vaya Mattress comes with free shipping and free returns, a 100-night sleep trial and a 10-year warranty. Vaya runs numerous mattress deals throughout the year, letting you save even more on an already affordable mattress.
Details
Price Range: $1574 to $2098
Mattress Type: Hybrid
Mattress Height: 14 Inches
Mattress Firmness: Soft (3 on the firmness scale)
Available in: twin, twin XL, full (double), queen, king, California king, and split king
Sleep Trial: 100 Nights
Warranty: 20 Years
Shipping: Free
Mattress Highlights
Plush, breathable cushion hugs the body for a cloud-like surface
Transition foam increases buoyancy and responsiveness
Pocketed coils react to movements yet isolate motion
Recommended For
Side sleepers of all body types
Various body types
Hot sleepers
For many sleepers, particularly side sleepers, a soft mattress is the peak of comfort. That's not to say a mattress can't be both firm and luxurious, just that many associate luxury and comfort with a plush feel. We find it difficult to match the AS5 Hybrid's balance of plush cushion and supportive coils when it comes to soft mattresses.
The AS5 Hybrid is excellent for side sleepers of all body types. Some combination sleepers may also enjoy the AS5 Hybrid's feel.
As we previously mentioned, Amerisleep relies on Bio-Pur foam to create unbeatable comfort inside their memory foam and hybrid mattresses. In the AS5 Hybrid, the thick top layer of Bio-Pur foam creates a plush, personal cloud for sleepers to luxuriate in, promoting relaxation.
The second layer of the AS5 is Active Flex foam, a material that balances out the top cushioning layer. Active Flex minimizes sinkage without affecting the bed's overall plush feel. Many lower-quality soft mattresses don't have a layer like Active Flex and feel like sink traps because of it.
The support core is a tall set of pocketed coils, with every coil individually wrapped to limit motion transfer. The pocketed coils also offer edge support, maintaining a firm feel along the sides as you move out of bed. A firm foam base supports the coils, promoting stability and longevity.
The Amerisleep AS5 Hybrid comes with a 100-night sleep trial and a 20-year warranty, as with any Amerisleep mattress.
Most Comfortable Mattress on Amazon:

Zoma Start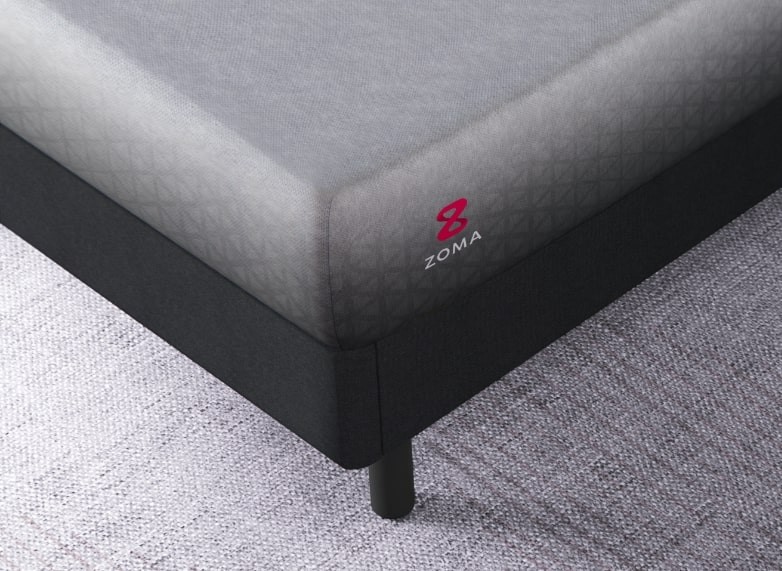 Details
Price Range: $273 to $503
Mattress Type: Memory Foam
Mattress Height: 10 Inches
Mattress Firmness: Medium-Firm (6 to 7 on the firmness scale)
Available in: twin, twin XL, full (double), queen, king, California king, and split king
Sleep Trial: 100 Nights
Warranty: 10 Years
Shipping: Free
Mattress Highlights
Conforming gel foam cushions without feeling too soft
Uniquely responsive transition layer keeps the body lifted
Overall design promotes pain-free rest and a healthy sleep posture
Recommended For
Back sleepers
Stomach sleepers
Hot sleepers
The Zoma Startis one of our top choices when it comes to mattresses that provide great value. It has a firmer feel than our other recommendations, making it well-matched for back and stomach sleepers. Still, its responsive design helps it provide comfort to other sleep styles, too!
Plus, the mattress costs between $270 to $500, depending on your size choice. So if you're looking to choose a comfortable mattress without overspending, the Zoma Start is another worthwhile option.
The Zoma Start possesses a similar construction as the original Zoma Mattress. The top layer is gel memory foam, though this one is free of cutouts for a smooth, even surface. Next is a layer of Reactiv foam for extra responsiveness. At the bottom is a thick layer of Support Plus foam for stability.
Your purchase of a Zoma Start mattress includes free shipping and a 10-year warranty.
Choosing a Comfortable Mattress Type
There are four main ones to consider when it comes to mattress types on the market —memory foam, latex, innerspring and hybrid mattresses.
Memory Foam
Memory foam mattresses are a popular choice for sleepers seeking a more comfortable mattress. The material reacts near-instantly to heat and pressure, which is why a memory foam mattress hugs the sleepers. The best memory foam mattresses come in a broad range of firmnesses to better suit all sleeping styles.
Memory foam mattresses are also well-liked not just for their conforming feel but for their affordability. Memory foam mattresses are available at all price points, from the best budget mattresses to more upscale models with added bells and whistles.
That's not to say that memory foam is a perfect material. Traditional memory foam has an issue with holding onto body heat, making the surface grow warmer. If too much heat builds up in the bed, it can prematurely wake a sleeper.
Many modern memory foam manufacturers mix in cooling materials or rely on other tricks to increase airflow through the mattress. So if you live in a warmer climate or possess a high body temperature, a memory foam bed can still act as one of the best cooling mattresses for a hot sleeper.
Latex
Latex mattresses are a more natural alternative to memory foam beds, though the two materials feel pretty similar. Like memory foam, latex contours to the body for pressure point relief and cushioning. Latex is typically considered more buoyant than memory foam, with sleepers feeling more on top of the mattress.
While memory foam is made with synthetic chemicals, natural latex is whipped from harvested rubber tree sap and left to set into foam. Many natural latex mattresses also contain other eco-friendly materials, such as wool, cotton, plant fibers, and upcycled steel. If you want to choose a sustainably produced mattress, it's difficult to beat a latex bed.
Some people find a latex mattress is too firm for their tastes, thanks to the material's natural buoyancy. Even if a shopper does find a latex mattress comfortable, they may hesitate to purchase the bed because of its attached price tag. Latex mattresses are one of the more expensive mattress types, thanks to the foam's production cost.
Innerspring
Innerspring mattresses have a long history, with the basic design being around for more than a century. A traditional innerspring bed consists of an open coil system with a foam-and-fabric layer on top and bottom.
When it comes to comfort, innerspring mattresses have a bit of a reputation for feeling less than stellar. Part of this is due to the type's inherent firmness, which can keep it from fully conforming to a side sleeper's body and cause stiffness and aches. Innerspring mattresses also tend to feel uncomfortable as their coils begin sagging, which can happen in a few short years.
There are more modern variations on the traditional innerspring mattress available, though. Some companies use newer, more responsive coil designs and pillow tops to increase an innerspring mattress's comfort.
Hybrid
Hybrid mattresses combine the comfort of a foam mattress with an innerspring bed's supportive coils. A high-quality hybrid mattress should feature at least 2 inches of foam on top. This design choice promotes more pressure relief than what an innerspring mattress offers.
While the best hybrid mattresses do borrow the idea of a coil system from classic innerspring mattresses, they have a coil setup extremely different from a traditional spring system. Many older innerspring mattresses relied on open, interconnected coils, while hybrid mattresses contain pocketed coils. Unlike open coils, pocketed coils isolate motion and squeak less.
Thanks to the airy coil support systems, some sleepers find that a hybrid mattress also keeps cool better than a traditional foam mattress.
Choosing a Comfortable Mattress Firmness
Picking the right mattress firmness may be the most significant mattress shopping consideration. If you choose a too-soft or too-firm mattress, you're liable to wake up with a sore back and other aches.
However, the tricky part is that it's not about choosing a mattress that's objectively too soft or too firm. Different sleepers have different firmness needs, after all. What feels right to you depends on your favorite sleeping position and your body type, along with your personal preferences.
As a side note, firmness and density are often confused with each other. However, firmness has to do with the subjective feel of a mattress, while density is an objective measurement of how much matter is in a cubic foot of foam.
Sleep Position and Firmnesses
Let's first address the three sleep positions—side, back, and stomach. What position you're in affects how pressure builds up in your body, determining what firmness level you need to feel comfortable.
Side sleepers require a softer mattress than the other two. If a side sleeper is not adequately cushioned, they may wake up with stiffness and soreness in their shoulders, neck, back, or hips. The best mattresses for side sleepers offer side to medium feels that complement the style.
Back and stomach sleepers are usually more comfortable with a firmer mattress, stomach sleepers especially. A firm mattress limits the sinkage that can cause spinal misalignment and lower back pain.
Stomach sleepers have a particularly high risk of misaligning their spines thanks to the way gravity pushes down on their bellies. When the stomach sinks too far, the spine is dragged out of its neutral position. The best firm mattresses buoy their bodies for a healthy alignment.
Back sleepers usually don't need quite as firm a mattress as stomach sleepers and are often quite happy with a medium-firm mattress. Some enjoy the soft feel of a medium mattress, particularly if it has added lumbar support, too. Too-soft mattresses can cause spinal misalignment, so back sleepers may want to look at the best mattresses for back pain.
Some people move between positions during the night, and they are known as combination sleepers. If you're a combination sleeper, you need a mattress that provides adequate support for all positions and makes movements easy, lest you feel stuck as you change positions. We recommend medium mattresses with bouncy feels for combo sleepers.
Body Type and Firmnesses
Next, let's consider body type. If you're between 130 to 230 pounds, you're thought of average build and can focus on just your favorite sleep position. However, if you're under 130 or over 230 pounds, you need to think about how your mattress will conform to your body.
Petite sleepers don't place as much weight on a mattress, so the average bed won't conform to their bodies as readily as they would for an average-size sleeper. Because the mattress must conform to the body to properly relieve pressure points, we strongly recommend smaller sleepers looking for softer, cushioning mattresses to cradle their bodies.
Heavier sleepers often benefit from sleeping on a mattress on the firmer end of their recommended range. Firm mattresses keep their bodies from pressing down too far into the mattress, promoting a healthy spine alignment and minimizing the chances of back pain and other aches.
That's not to say a soft mattress is bad for plus-sized sleepers, only that they have to be careful about choosing one with supportive features. Soft hybrid mattresses are often a good choice because the coils buoy the body and adapt to movements. Plush mattresses with targeted support are another excellent choice.
Couples and Firmnesses
All of these factors can make it more complicated for two people to choose a mattress to share. When it comes to a couple's comfort, we usually recommend a middle-of-the-road medium or medium-firm mattress.
Partners may also choose to split the difference literally and choose a split-size mattress. The most common option is a split king mattress, which is two twin XL mattresses pushed together. Sleepers can customize each side with its own firmness, so two people can share without compromising comfort. Shoppers may also choose a split-king mattress if they're considering one of the best adjustable beds.
Are you worried about choosing the wrong mattress firmness? Perhaps you're hesitant to try an online mattress that you haven't seen, let alone felt. Take comfort in the fact that the best mail-order mattresses include a lengthy sleep trial to let you fully test it out.
Online Shopping and Saving on Comfortable Mattresses
When it comes to shopping online or at a store, you're likely to receive a better deal when you choose one of the best online mattresses. Online retailers offer lower prices simply because they have fewer costs to meet.
Plus, the shopping experience offers convenience with at-home shopping and home delivery. Many companies make their mattresses easier to transport by compressing them and rolling them up to slip inside a box. The best mattresses in a box reach their full-size within a few hours, letting you sleep on them soon after setting them up.
Keep an eye out for mattress sale days, too. The upcoming deals happening during the best Labor Day mattress sales are an excellent way to save.
Consider Mattress Sizes
When it comes to comfort, it's essential to think about how much sleeping space you need. Some single sleepers may want to breeze past the twin or even full-size beds and try one of the best queen-size mattresses for an expansive surface. People with larger master bedrooms may even want to consider upgrading to king-size mattresses.
Even a twin mattress can be comfortable if you need something compact and inexpensive. The best twin-size mattresses conform to the body and ease pressure points, letting you wake up refreshed and ready for a new day. Just make sure to evaluate your lifestyle needs when choosing between mattress sizes.
Frequently Asked Questions
What mattress is most comfortable for side sleepers?
Side sleepers need a pressure-relieving mattress to cushion the shoulders and hips. If you do not give these areas ample room to sink into the bed, your spine can also shift out of alignment. Soft to medium mattresses are usually the most comfortable mattress for side sleepers, providing the right cushion. We also recommend conforming types of mattresses such as memory foam, latex, and hybrids.
What mattress is most comfortable for stomach sleepers?
Stomach sleepers are susceptible to spine misalignment due to the way gravity interacts with their bodies. When a stomach sleeper lies down, gravity pushes down on the abdomen and belly area. The lower torso sinks into the bed if the mattress is too soft and draws the spine out of its neutral alignment.
Stomach sleepers should look for a firm and responsive mattress with consistent support to buoy the spine.
What mattress is most comfortable for back sleepers?
The advantage of back sleeping is that it naturally promotes a healthy spinal alignment. The position mimics the posture you have when you're standing straight. A mattress for back sleeping should support the back while conforming to the outward and inward curves for pressure relief. We would suggest a medium-firm to firm bed for back sleepers.
How can I make a mattress more comfortable?
If you want to put off buying a new mattress, you can try a few tricks to make your current one feel more comfortable. One of the more significant ways to alter a mattress's feel for the better is with a mattress topper. As the name suggests, you place toppers across the top mattress for a softer, firmer, or cooler feel. Many of the top mattress companies also offer toppers for budget shoppers.
Are you waking up with stiffness or pain in the upper back or neck regions? Try replacing your pillow instead of your mattress. An unsupportive pillow can interfere with your spine's neutral alignment, causing morning stiffness and soreness.
How do I choose a good mattress?
Understanding your preferred firmness and mattress type is a major part of picking the right mattress. Once you know what type and firmness work with your comfort preferences, consider other mattress details such as cooling features, natural vs. synthetic materials, and the bed's expected durability.
We also suggest reviewing the mattress's warranty and its attached sleep trial and return policy. Sleep trials have become a standard feature of modern mattresses, with companies offering three or four months to make sure a bed feels right.
Did You Find Your Next Mattress?
A mattress should last you around seven or eight years at least, although many of the best mattresses last even longer. With that in mind, it only makes sense to choose one of the more comfortable mattresses on the market. The best comfortable mattresses contain high-quality materials that help the bed retain its comfy feel even after years of nightly use.
We may earn a commission from links on this page, but we only recommend products we back. Newsweek participates in various affiliate marketing programs, which means we may get paid commissions on editorially chosen products purchased through our links to retailer sites.